The digitalisation movement has fundamentally transformed how businesses function in the 21st century. Every aspect of a business has undergone automa
The digitalisation movement has fundamentally transformed how businesses function in the 21st century. Every aspect of a business has undergone automation with tailored applications and systems. Accounting is no different from this trend. For new businesses the choice for Accounting softwares is crucial. To find a suitable accounting solution for your business it's important to evaluate the software features. With this in mind we've prepared this blog featuring the pros and cons of Xero one of the leading accounting softwares in the market. However before we get started on it let's find out what you can expect from an accounting software. 
Accounting Softwares
Accounting softwares are application or cloud based solutions for handling accounting information. Through various modules you can manage and store data such as accounts payable/receivable, general ledger, payroll, journal and trial balance. With the variety of requirements for different businesses there is no one-size-fits-all solution in this regard. 
Accounting softwares can be designed in-house by large companies catering to specific needs, or can be purchased as services from third party vendors. However, recent trends portray a mixture of both third-party packages and local modifications. This combination provides dedicated and customisable services for each business.
The Xero story
Xero accounting software is the product of Xero, a New Zealand based software company. The company previously known as "Accounting 2.0" was established in 2006 and since has accumulated more than one million customers in 2018. With 800 third-party integration options it provides one of the most comprehensive accounting solutions in the market. The touch-based mobile (iOS) application was released in 2011. In 2019, Xero has provided services to businesses in the United Kingdom, Australia and its country of origin.  Source: Wikipedia
Prime features
Xero accounting software provides a standard package of services at each price point. The Early package costs $9/month and is somewhat functional for businesses in their infancy. However, for small businesses that are growing rapidly will need to purchase the Growing package for $30/month. For large businesses Xero provides all of their services under the Established package costing $60/month. Pricing information collected from Xero website. 
We've covered all the services Xero provides in this section. However, all of these are not available for cheaper packages. To avail all the features you must purchase the Established package. If you're looking for training options on Xero accounting software for your company accounts department, check out our course on Xero Accounting Diploma.
Features you get with your Xero purchase are as follows,
Invoicing: 
This feature allows you to create and send custom invoices directly from your accounting interface.
Quotes: 
You can create and send personalized quotes as well as  easily convert them into payable invoices.
Bank connections: 
You can connect your bank accounts directly to Xero database to update transactions and payments in real time. You can also access all of this information from the Xero application so no need to contact your bank for transaction details.
Bank reconciliation 
Xero provides reconciling your bank transactions alongside manually categorizing transactions. Additionally, you can create rules for matching bank transactions to invoices, bill payments, and purchases already stored in Xero.
Inventory: 
Xero allows you to track product inventory, quantity and value, categorize best selling products and profit calculations based on sales.
Purchase orders: 
It's possible to create digital purchase orders using inventory data and directly send them to your suppliers. You can convert such purchase orders into bills or invoices with one click.
Bills: 
Xero provides comprehensive billing options including payment, bundling bills, schedule future payments, and set up automatic billing through repeat and replicate features.
Dashboard: 
The Xero accounting dashboard is completely customizable. Letting you track bank balances, invoices, and bills. You can specify Xero to monitor cash flow, sales and reporting.
Reporting: 
Xero can provide customized financial reports and budgets. You can also obtain reports on performance and share these interactive reports in real-time.
Files: 
You can store files and transactions within Xero storage. The feature includes attaching documents to transactions, records, invoices, and contact records. You can view files side-by-side and share files with team members essentially creating an internal network for our business.
Fixed assets: 
Xero is capable of keeping track of your business assets, updating them as needed, managing depreciation and disposals.
Sales tax: 
Xero automatically calculates sales tax rates, using specified tax rates for your business needs. You can also set tax defaults, file sales tax returns using Avalara TrustFile integration.
Contacts: 
Xero even lets you store contacts. This means you can integrate your email account, add contacts to groups and organize based on categories, see a customer's transaction history—including bills, most-purchased products or services, invoices, and payment frequency.
Payments: 
Xero is compatible with online payment PayPal or Stripe to accept payments for invoices.
Mobile app: 
The Xero mobile app for Android or iOS is free! Allowing you to send invoices, approve expenses, input receipts, reconcile transactions, and view customer information while on the go.
Gusto payroll: 
Gusto provides full-service payroll processing to Xero accounting.
Security: 
Xero features two-step authentication, encryption, cloud back-up, and security monitoring to protect your data from breaches.
Users: 
Xero supports an unlimited number of user accounts.
Integrations: 
Xero hosts it's own app marketplace for integration with third-party tools.
Customer support: 
Xero's self-service resources like their video library, blog, and support center are quite strong alongside it's 24/7 customer service.
Pros and Cons
Xero Accounting software comes with distinct Pros and Cons that are comparable to other market competitors. You can use these to compare these to compare it against other softwares as well.
Pros
Partnership
Xero allows you to collaborate with financial advisors and businesses in-realtime, as users can view transactions and publish financial reports
User-friendly
Xero features a very modern user interface that is quite appealing. The features let you do financial reporting, reconciliations, and switching between clients much faster than most other softwares. 
Time-saving features
You can convert quotes, schedule recurring invoices, setting automatic payment reminders and attaching files are all quick and easy to do.
Add-on integration
Xero features additional third-party add-ons to automate and link data, significantly saving time and money.
Multiple users
The cloud-based software features multiple user levels within the account alongside customisable access rights which are function based.
Offers more than 800 integrations
According to Xero Apps Marketplace, there are more than 800 integrations and this number is growing rapidly.
Cons
Restrictions  
Starter packs are extremely limited in terms of feature. One important limitation of the Easy package is that it only allows you to create one user account for your entire business.
Lack of intuitiveness
Specific training is needed to operate Xero. Although the learning curve is not steep, some time is needed to fully understand the functionality and organization of the dashboard. However, if you're looking to earn a diploma in Xero we've got a course you may check out.
Limited expense claims
Features such as project management and multi-currency support are only available on the Established package. 
No paid notification 
Xero does not provide notifications for payment outputs or transactions.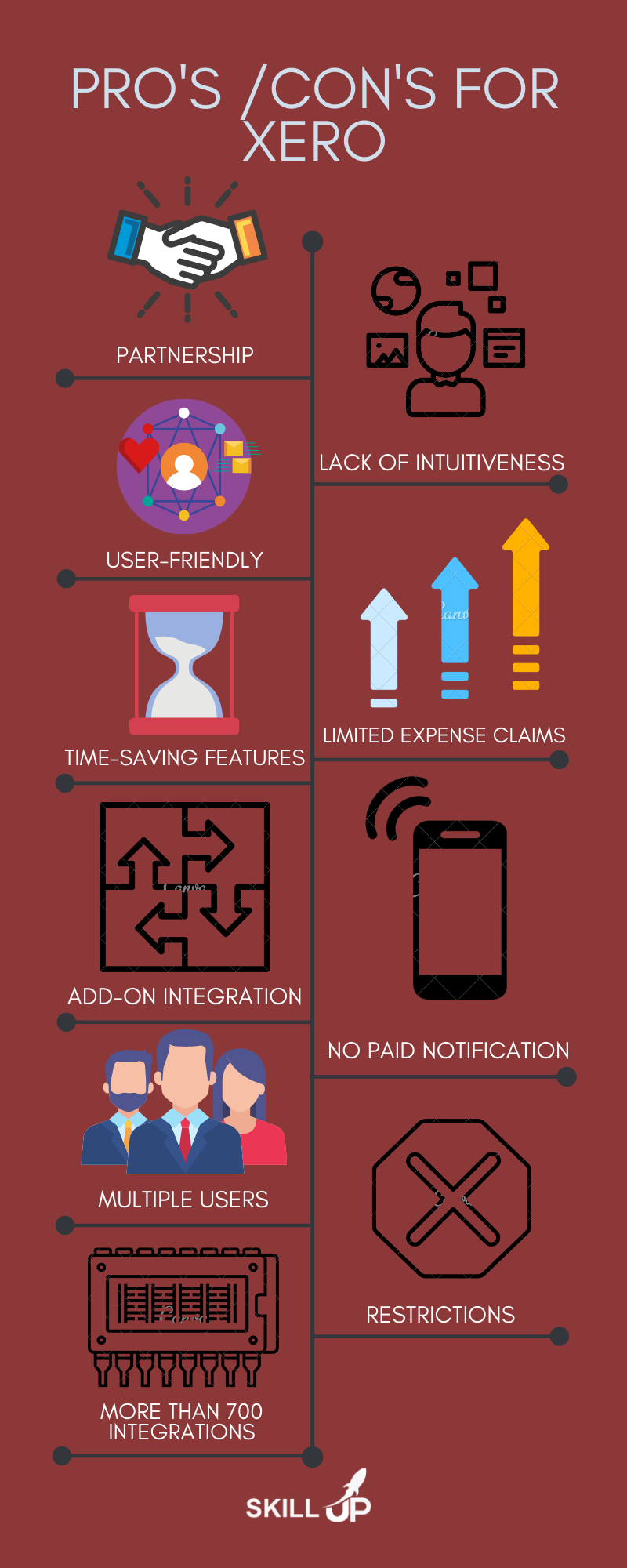 Ending Notes
Xero accounting software provides excellent service in it's top priced packages no doubt. However it's to be noted that Xero is adequate only for small or growing businesses. Increasing transactions beyond 2000 transactions a month makes using Xero very difficult.