Owing to the forces of urbanization, Kolkata has surpassed its former status as an underdeveloped residential area. On the contrary, it has emerged as
Owing to the forces of urbanization, Kolkata has surpassed its former status as an underdeveloped residential area. On the contrary, it has emerged as a top destination for residential apartment and provides stiff competition to other metro cities. Kolkata visibly presents a seamless mix of culture and heritage intertwined with the radiance of widespread development.
Residential properties in North Kolkata are the perfect embodiment of this statement.
Previously, areas away from the main city were not held in high regard due to its unorthodox positioning away from the central hub. Homebuyers were especially considering problems regarding the quality of life as well as the distant location they were placed in. The lack of social infrastructure and civic amenities back then rendered the region unfavourable for daily life.
That was years ago, a notion that is buried in the dust. The tables now have truly turned. Today, investing in residential apartments in areas such as Barasat will actually work to your advantage. In case you haven't heard, this area has actually morphed into a preference for homes in Kolkata. So, are you ready to learn about the benefits of investing in residential property here?
Advantages of Investing in Residential Apartments in North Kolkata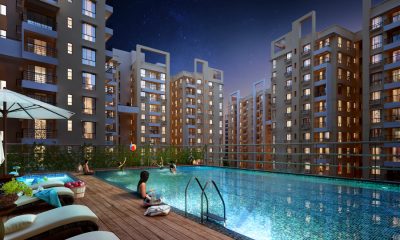 1. Efficient Transportation Network
The region is blessed with good connectivity over rail, road, metro and even by river. There are a variety of mediums to choose from, making the commute from residential properties in North Kolkata comparatively easy and hassle-free. The emergence of the metro facility has worked to connect people to other parts of the city. In fact, more lines are being established in places such as Barasat. Thus, areas such as BT Road and Madhyamgram also hold significant investment interest.
2. Established as a School District
Having a selection of schools and colleges nearby automatically raises the value of apartments, and North Kolkata has no shortage in that field. Adamas Knowledge City, Kingston Educational College and Auxiliam Convent are some of the many names you will encounter in this area. Hence, residential properties in North Kolkata, especially Barasat and BT Road, are sure to be advantageous.
3. Well-developed Residential Area
The previous 5 years have witnessed a drastic improvement. Neighbourhoods are now embellished by high-rises and the surrounding areas are dotted with shopping malls, restaurants and hospitals in abundance. Those looking to buy properties in Kolkata should turn their attention to the northern section of the city. In both liveability and amenities, North Kolkata scores high.
4. Proximity to NSC Bose Airport
One of the major advantages of having residential properties in North Kolkata is due to the close proximity it has to the NSC Bose Airport. Having the airport easily accessible from your home is a huge advantage to those who fly frequently. Moreover, the locality is less than 10 kms away from the airport as well as the NH-12. Thus, the easy approach of the airport contributes significantly to the value of the area.
5. Easy Access to Employment Centres
An influential reason to buy or invest in property is the distance to it poses to employment centres. Keeping this in mind, North Kolkata offers proximity to the commercial centres of Salt Lake, Rajarhat and New Town. Each of these is popular hubs for occupational purposes and being accessible to them is a driving force to invest in residential properties in North Kolkata.
The economic growth has attracted a large section of people to buy and invest in residential properties in Kolkata and nowhere is this growth more apparent than in North Kolkata. Both developers and homebuyers have shed their inhibitions and have ventured into regions at a distance from the main city. This has paved the way for more investment and better options for homes.
Investing in North Kolkata's residential property is sure to benefit you in more ways than 5.