The traditional and heavily embroidered lehenga designs are gone from the trend. Of course, the traditional style bridal lehenga designs were prevalen
The traditional and heavily embroidered lehenga designs are gone from the trend. Of course, the traditional style bridal lehenga designs were prevalent and exceptional in look, especially red lehenga. But now, the trend has been changed and brides prefer to play with the colours and embroidered work.
If you are also searching for the perfect bridal lehenga for your wedding occasion, the it is highly recommended to not to look for the regular and ordinary styles as they are quite boring as compared to the trendy and latest bridal lehenga designs. We aren't saying that you should not wear such styles of lehenga, but why not to look for the stunning and exquisite colours and designs in bridal lehenga these days when options are available? Right?
Well, these days, the fashion designers of bridal lehenga are curating distinguishing designs and styles in lehenga to meet the requirements of the young brides. Playing with the distinct colour contrasts, embroidery work and embellishments, the fashion designers are experimenting quite aggressively to curate something extraordinary in bridal lehenga designs.
Now, rather than wearing those old red and pink colours on your wedding day, you can prefer to pick and choose the modern style lehenga in extraordinary hues. Below listed are different styles and colours of bridal lehenga, which you can prefer to buy for your special day.
Pastel Shades – Perfect pick for this wedding Season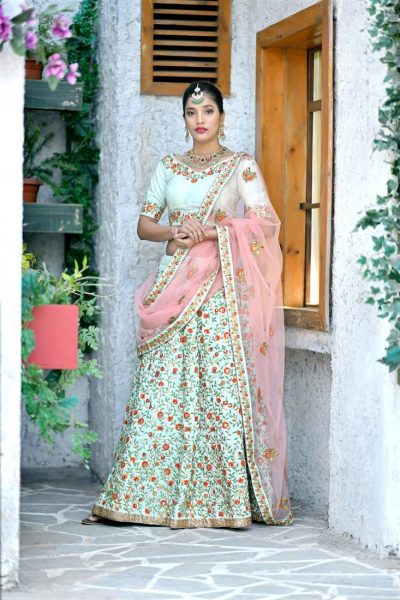 When buying bridal lehenga for your special day, first you must be sure about the colour that you are looking for in your lehenga, right? This year pastel shades are dominating the trend and why not? They make anyone look gorgeous and beautiful. Sometimes brides don't prefer to pick dark shades. So, for them pastels shades are absolutely a perfect pick. Pastels shades like mint green, dusty pink, pale gold, emerald green, peach hues and so forth. Undoubtedly, there are a lot of options available in pastel shades to explore. Just make sure that you go with the right accessories and jewellery along with the footwear and makeup to enhance the beauty of your outfit and your personality. You will surely be going to rock the pastel look on your special wedding day!
Golden – For a perfectly Classy look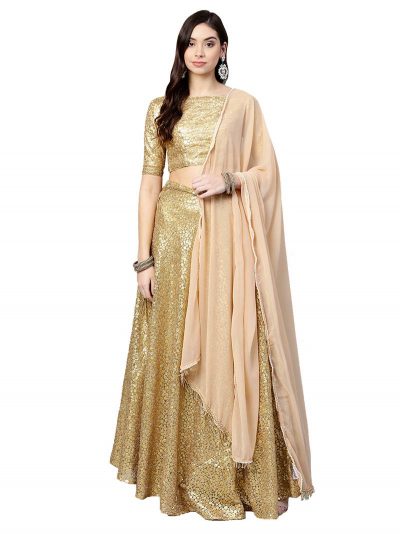 Do you love wearing golden shades garbs? Then you must try the stunning golden colour bridal lehenga on your special wedding day. Golden colour bridal lehenga is definitely classy and elegant. Also, it complements the entire bridal look of the bride. To buy an unconventional bridal lehenga for your big day, don't go ahead with those ordinary colours, especially when you have a great golden option! Even in golden colour bridal lehenga, you will get a different variety of styles and designs, which will add class and royalty to your entire bridal look. Hence, pick the right golden shade bridal lehenga in distinctive embroidery work to rock your bridal look!
Bejewelled Lehenga – an Elegant choice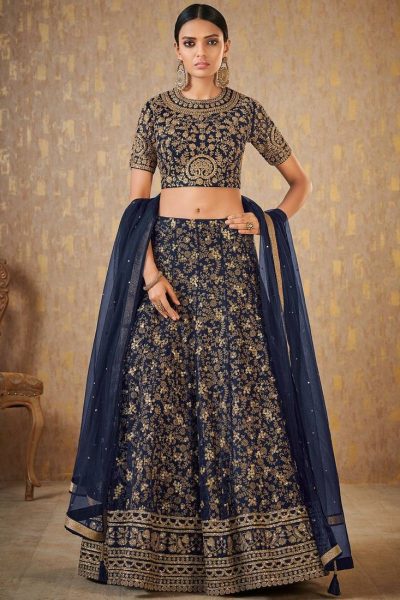 Bridal lehenga with the already embellished designs and styles are also in trend these days. With ruffles, strings and other embellishments, lehenga's are designed to meet the requirement of the young brides. The prominent plus point of bejewelled lehenga is that it's available in elegant colour choices. From raspberry, pomegranate, emerald green to classic blue, you will surely get an excellent variety to do wonders with your bridal outfit. You can also pick and choose antique jewellery to team it up with your outfit. Also, full sleeves look great in blouse or choli design, which you shouldn't ignore this season as it a popular trend.    Thus, get yourself prepared for the bridal lehenga shopping, which is definitely a tedious task to buy a perfectly elegant lehenga for your special day.
Marsala – Refreshing twist to Red Bridal Lehenga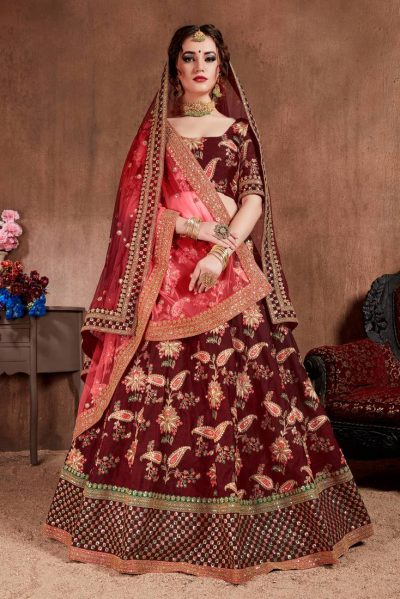 If you want to follow the trend of ed bridal lehenga, then you can also try Marsala shade bridal lehenga. This one will definitely add a twist to your conventional style bridal lehenga.  The glamorous and royal red colour will truly make you stand out in the crown on your special wedding occasion. You can explore the different varieties in Marsala bridal lehenga like in stain or velvet fabric material or something unique in embroidery work. The wide array of options is available for the young brides to rock the bridal look on their wedding day.
To conclude, here's a guide about modern styles of bridal lehenga designs, which is majorly dependent on shades, exceptional and extraordinary shades that you must try to look like a diva on your wedding day. Plan and prepare everything in advance, especially your lehenga shopping to not to miss any important thing on your wedding day! Good luck!